How MEASURE Evaluation Supports DREAMS

fs-16-183-en.pdf
— PDF document, 163 kB (167,077 bytes)
Author(s): MEASURE Evaluation
Year: 2016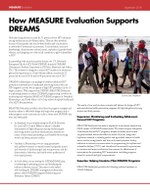 Abstract:
In partnership with numerous private donors, the U.S. President's Emergency Plan for AIDS Relief (PEPFAR) launched DREAMS (Determined, Resilient, Empowered, AIDS-free, Mentored, and Safe) in 2015. This initiative is designed to reduce HIV incidence in adolescent girls and young women in 10 sub-Saharan African countries by 25 percent by the end of 2016 and by 40 percent by the end of 2017.
DREAMS is delivering a core package of evidence-informed HIV prevention interventions to benefit girls and young women who are HIV-negative but who live in regions of high HIV prevalence in the 10 target countries. With support from PEPFAR, MEASURE Evaluation is conducting research to inform DREAMS programming, as well as the monitoring and evaluation (M&E) of DREAMS programs in Swaziland, Mozambique, and South Africa—all to help achieve the global health goal of an AIDS-free generation.
MEASURE Evaluation provides critical data for program managers and decision makers to effectively design and target their programs and to make program course corrections in order to better reach PEPFAR's test, treat, and retain goals. These include:
Rapid assessments to monitor and improve HIV prevention program coverage in high-risk areas, using the PLACE and other venue-based research methods.
Male sexual partner characterization studies.
Process, outcome, and impact evaluations focused on adolescents and gender.
Analyses of data drawn from multiple sources to contribute to the M&E of youth-focused programs.
Development and selection of indicators to measure the implementation, progress, and impact of DREAMS.
Youth-focused and gender-sensitive desk reviews.