Botswana's Integration of Data Quality Assurance Into Standard Operating Procedures: Adaptation of the Routine Data Quality Assessment Tool

sr-13-79.pdf
— PDF document, 2,887 kB (2,956,556 bytes)
Author(s): Boone D, Cloutier S, Lins S, Makulec A
Year: 2013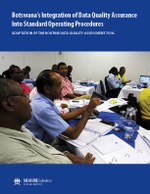 Abstract:
The ability of health system stewards to make strategic decisions is impacted by the quality of their health data. At the national level in Botswana, data ultimately inform budget and policy decisions. At the District Health Management Teams (DHMTs) and service delivery sites, data enable providers and Monitoring and Evaluation (M&E) Officers to understand the broader health activities and priorities in their respective areas.
To support improved data quality throughout the health system, the Botswana Ministry of Health (MoH) collaborated with experts from MEASURE Evaluation to develop a national procedure for routine monitoring of data quality and providing specific guidance on developing action plans to address challenges, using a bottom-up approach.
This case study documents the collaborative process between MEASURE Evaluation and the Botswana MoH for writing the standard operating procedures (SOPs) related to data quality, adapting the global Routine Data Quality Assessment (RDQA) tool, and developing and implementing a training curriculum to support the roll out of the new SOPs and tool, highlighting resources required to support the activities and lessons learned for future country adaptations.