A Case Study of the Integrated Patient Monitoring System in Cote d'Ivoire

sr-13-82.pdf
— PDF document, 3,735 kB (3,825,076 bytes)
Author(s):
Year: 2013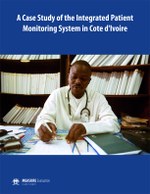 Abstract:
Cote d'Ivoire has a three percent adult HIV prevalence rate, one of the highest in West Africa. In 2001 the country launched a national care and treatment program with the goal of improving the quality of life for people living with HIV and AIDS. The Ministry of Health (MoH) of Cote d'Ivoire has sought strategies to address the epidemic in a comprehensive way, in alignment with global guidance provided by the World Health Organization (WHO), other international agencies, and bilateral donors. As part of this effort, in 2008 the MoH adapted and implemented the WHO's system of standardized patient monitoring tools, known as the Patient Monitoring System (PMS) for the country's national HIV care and treatment program.
Beginning in 2010, to support and strengthen the integration of HIV services, the MoH worked with MEASURE Evaluation to revise the PMS, producing the Interlinked Patient Monitoring System (IPMS). The IPMS system includes a set of paper-based data collection forms for collecting and recording information from individual patient consultations, registers for recording information on clinical services rendered to all patients seen at the various service delivery points (i.e., the care and treatment clinic, antenatal care clinic, counseling and testing center, among others), and two types of summary documents that produce aggregate reports from the patient-level data. The objective of the IPMS is to set up a national system through which comprehensive, longitudinal patient data can be collected and used for decision-making by service providers at different service delivery units at the facility level, by program managers working at the regional and national levels; and for reporting data to external donors.
This case study was conducted immediately following the field test of the tools in order to gather information that would be informative for the national scale-up of the tools. The case study examines tool users' perceptions of the tools and whether they believe the IPMS improves service integration, patient monitoring, program management and health information system performance.