Assessment of Integration of Family Planning into HIV/AIDS Care and Treatment Services in Health Facilities in Dire Dawa City Administration, Eastern Ethiopia

WP-14-140.pdf
— PDF document, 258 kB (264,498 bytes)
Author(s): Kassa M, Abera G, Bekele D, Girma B, Adamou B
Year: 2014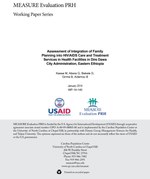 Abstract:
Background: In Ethiopia, approximately 38,401 pregnant women are living with HIV.  Despite significant efforts to prevent mother to child transmission, there were an estimated 13,008 new pediatric infections in 2011. What proportion of these pregnancies were planned and what proportion were unplanned and could have been prevented with properly met family planning (FP) services is unknown. Making FP services accessible to people living with HIV (PLHIV) is one of the four key strategies that the World Health Organization (WHO) promotes in its comprehensive approach to prevent HIV infections in infants and young children.
Method: A cross-section study design was employed to assess the unmet need for FP and barriers to use among PLHIV in Dire Dawa Administration, Eastern Ethiopia. HIV-positive women of reproductive age (15-49 years) who were attending HIV/AIDS care and treatment services at three hospitals and eight health centers providing HIV/AIDS care and treatment services in Dire Dawa were interviewed as well as health care providers and program managers from those facilities, as well as two others. An inventory of services provided at the facilities was also conducted.
Result: A total of 438 PLHIV were interviewed. Among the 83% of the study subjects who had been pregnant at least once, only 32% desired more children. Nearly 89% of the participants had heard of at least one FP method. Seventy-nine percent had ever used an FP method in the past. Nearly 69% of the PLHIV were using an FP method during the data collection period, with male condoms being the most widely used. Seventy-two percent of the study subjects were counseled on FP methods. The unmet need for FP method was found to be 36%. A weak integration of FP services to chronic HIV care was noted.
Conclusion: There is high unmet need for FP among women living with HIV in Dire Dawa, Ethiopia. Addressing the unmet will improve the reproductive health of PLHIV and reduce the transmission of HIV to their babies. Integrating FP services into the HIV chronic care service is of paramount importance.