Integration as a Health Systems Strengthening Intervention: Case Studies from Senegal and Malawi
Please join MEASURE Evaluation for the "Integration as a Health Systems Strengthening Intervention: Case Studies from Senegal and Malawi" webinar September 30 at 9:30–11:00am EDT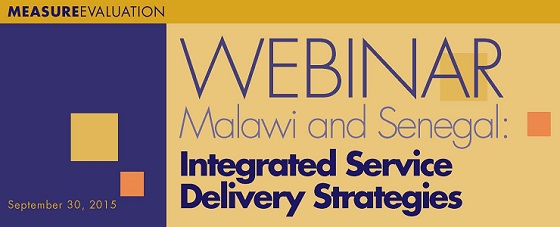 Please join MEASURE Evaluation for the "Integration as a Health Systems Strengthening Intervention: Case Studies from Senegal and Malawi" webinar on September 30 at 9:30–11:00am EDT.
Integration of services has been adopted in recent years across the health sector as a strategy to improve availability and access to quality services for populations. MEASURE Evaluation conducted in-depth assessments of the integration process in Senegal and Malawi. These case studies illustrate how integration fared as a service delivery model and how elements of the health system were adapted to allow for the implementation of integration. Special consideration was given to the health information system elements that were also needed to support the monitoring and evaluation of integrated service delivery. The findings of these case studies and discussion of the implications for other settings pursuing a strategy of integrated service delivery, at scale, will form the basis of this webinar.
How can you contribute? During the webinar, we want to hear about your program's reasons for utilizing an integrated approach. We initiated this work because we understood there was a demand from people, particularly at the country level, for examples of how integrated health service interventions were planned, implemented, monitored, and evaluated.
Contribute to the learning by sharing your experiences with supporting integrated service delivery at scale within the elements of the health system as a whole, including adjustments and improvements to monitoring and evaluation and health information systems.  Are you getting the information you need from your integrated program? What information learning about integrated programs do you still need?