MEASURE Evaluation at AIDS 2018
MEASURE Evaluation experts will share project work at AIDS 2018.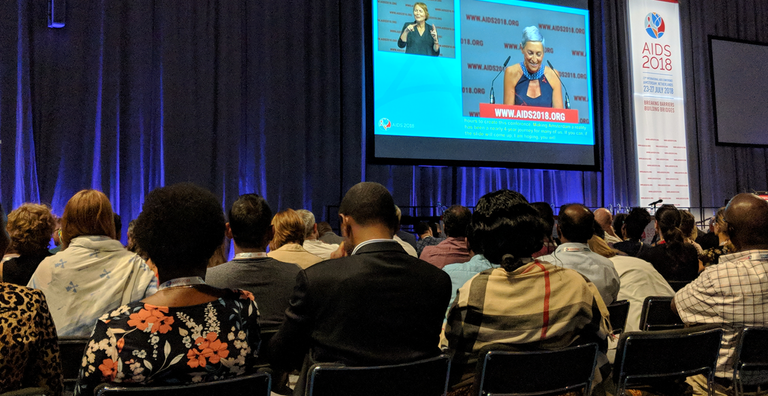 The 22nd International AIDS Conference (AIDS 2018) will be hosted in Amsterdam, Netherlands, 23-27 July 2018. The theme of AIDS 2018 is "Breaking Barriers, Building Bridges," drawing attention to the need of rights-based approaches to more effectively reach key populations.
MEASURE Evaluation staff will be at AIDS 2018 sharing the following project work.
Title of Abstract

 Session Title

Date

Time

Room

HIV "condom cascade" to monitor prevention among female sex workers in Uganda

I want your sex: Sexual health in the PrEP era

Thursday, July 26, 2018

16:20-18:00

Elicium 1

 

Utilization of HIV prevention services in the East Africa Cross-Border Integrated Health Study, 2016

Poster Exhibition

Wednesday, July 25, 2018

12:30-14:30

Poster Exhibition Area, Hall 1

How does integrating HIV and TB services affect health outcomes for HIV-TB coinfected patients in Ukraine? Results from an impact evaluation

Poster Exhibition

Thursday, July 26, 2018

12:30-14:30

Poster Exhibition Area, Hall 1

Improving care for people in Ukraine who have tuberculosis and HIV: Findings from a qualitative analysis of integrated services

Poster Exhibition

Thursday, July 26, 2018

12:30-14:30

Poster Exhibition Area, Hall 1

Changes in HIV and non-HIV service delivery outcomes at the subnational level associated with PEPFAR funding shifts in Kenya and Uganda

Poster Exhibition

Thursday, July 26, 2018

12:30-14:30

Poster Exhibition Area, Hall 1

Influences of gender norms and gender roles on HIV treatment engagement in Vietnam

Poster Exhibition

Wednesday, July 25, 2018

12:30-14:30

Poster Exhibition Area, Hall 1

Political impunity and HIV vulnerability among Haitian female sex workers in the Dominican Republic

Poster Exhibition

Wednesday, July 25, 2018

12:30-14:30

Poster Exhibition Area, Hall 1