Measuring the Content of Postnatal Care for Women: What Do We Know and Where Do We Need to Go?
Join MEASURE Evaluation for a one-hour webinar on September 28 at 9:30am EDT on measuring the content of postnatal care for women.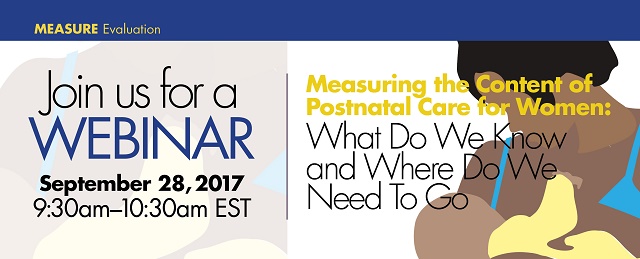 Join MEASURE Evaluation for a one-hour webinar on September 28 at 9:30am EDT on measuring the content of postnatal care for women. An introduction will be provided by Allisyn Moran, World Health Organization (WHO) and Kavita Singh Ongechi, MEASURE Evaluation. The webinar will be led by Ann Blanc and Katharine McCarthy of the Population Council. Dr. Singh and Carolina Mejia, MEASURE Evaluation, will moderate the webinar.
Given that the majority of maternal deaths occur during labor, delivery, and the immediate postnatal period, efforts to increase coverage of postnatal care (PNC) services for women are essential. However, most large-scale surveys ask women if they had a PNC "check"—but not about specific signal functions. Thus, we know very little about specific services women are receiving during PNC checks. When considering what measures of signal functions to add to surveys, there must be a balance between medically essential interventions and interventions that women can accurately recall.
During this webinar, the presenters will share findings from their validation studies on PNC coverage indicators. This will be followed by a discussion of next steps and implications for further research.
Speakers
Ann K. Blanc, PhD, is vice president of social and behavioral science research at the Population Council. Under her leadership, the Population Council is increasing investments in rigorous research on priorities in girls' education, stigma, and gender inequality in HIV/AIDS, maternal health, resilience and environmental stressors, the introduction of sexual and reproductive health technologies, and the scale-up of evidence-based programs for adolescent girls. Dr. Blanc is a member of the Committee on Population of the National Academy of Sciences, the editorial board of Studies in Family Planning, and the "Core Group" of technical experts working on improving the measurement of coverage of maternal, newborn, and child health interventions. She is the author of more than 70 scientific articles and book chapters. She received a PhD in sociology from Princeton University in 1985.
Katharine McCarthy, MPH, is a staff associate at the Population Council, where she is involved in research on gender, adolescence, sexual and reproductive health, and measurement of the coverage of quality maternal and newborn health services. Ms. McCarthy completed her masters of public health at Columbia University's Mailman School of Public Health. She is currently pursuing a doctorate in epidemiology at the City University of New York (CUNY) School of Public Health, where she is a global health fellow at CUNY's Center for Immigrant, Refugee and Global Health. Ms. McCarthy has co-authored numerous articles published in journals such as Pediatrics, PLOS One, Journal of Global Health, and the American Journal of Public Health.
Carolina Mejia, PhD, MPH, is an M&E and gender technical advisor at MEASURE Evaluation at the University of North Carolina at Chapel Hill (UNC). She has long experience conducting public health and health services research, M&E, and providing technical assistance on a range of domestic and global public health issues and projects. Dr. Mejia has conducted quantitative and qualitative evaluations in various areas of maternal and child health (MCH), collaborating with culturally diverse groups. She is currently leading a study on developing and validating measures of empowerment and social norms, with a focus on sexual and reproductive health.
Allisyn Moran, PhD, MHA, is a scientist with the Epidemiology, Monitoring, and Evaluation Team in the Department of Maternal, Newborn, Child and Adolescent Health at WHO. At WHO, she provides technical assistance and support for monitoring and evaluation of maternal and newborn health. She has more than 20 years of experience in applied research, operations research, program monitoring and evaluation, and translation of research findings to policy initiatives in reproductive, maternal, newborn, and child health. She has previously worked with the Bureau for Global Health at the United States Agency for International Development (USAID)/Washington and USAID/Nigeria, Save the Children, Jhpiego, icddr,b, and Johns Hopkins Bloomberg School of Public Health. She holds a doctor of philosophy and a masters of health sciences degree from Johns Hopkins University.
Kavita Singh Ongechi, PhD, MPH, is the senior technical advisor for MCH for the MEASURE Evaluation project and a research associate professor in the Department of Maternal and Child Health at UNC. Dr. Singh's main areas of research are the evaluation of MCH and HIV prevention programs. She is also interested in research focused on reaching the most vulnerable groups (including the poorest, displaced populations, orphans, and stigmatized groups) with interventions. Dr. Singh's work for MEASURE Evaluation is particularly focused on the measurement of maternal health and mortality, and the evaluation of newborn health interventions.