Learning Agenda

fs-15-142-en.pdf
— PDF document, 93 kB (95,816 bytes)
Author(s): MEASURE Evaluation
Year: 2016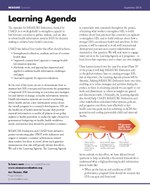 Abstract:
The mandate for MEASURE Evaluation, funded by the U.S. Agency for International Development (USAID), is to work globally to strengthen capacity in low-resource countries to gather, analyze, and use data in robust health information systems (HIS) for decision making to achieve better health outcomes. MEASURE Evaluation and USAID have defined indicators and targets to measure countries' progress toward robust HIS, but there is a level above such granular measurement that also will greatly inform this effort. We call it the Learning Agenda, as described in this fact sheet.
As we embark on this effort, we have defined broad questions to help us develop a theoretical framework to understand what a high-performing health information system looks like:
What are the factors and conditions of HIS performance progress? How should we measure key HIS concepts and functions?

What are the stages of progression to a strong HIS? What comes first, typically? Or is there a typical pattern of progression?

What are the characteristics of a strong HIS? What seem to be the drivers of HIS improvement and what strategies do those drivers suggest?
Visit a related Health Information Systems Strengthening Resources Center.
Related Content
Easing the Data Collection Burden on Healthcare Providers by Strengthening Health Information Systems
Improving Continuity of Care by Strengthening Health Information Systems