How the Priorities for Local AIDS Control Efforts (PLACE) Method Helps Prevent HIV Transmission and Reach the 90-90-90 Targets

FS-15-143-en_RevMay2018.pdf
— PDF document, 393 kB (402,812 bytes)
Author(s):
Year: 2018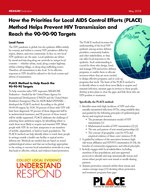 Abstract:
The HIV pandemic is global, but the epidemic differs widely by country, and within a country HIV prevalence differs by region, district, and even community. In fact, no two local HIV epidemics are the same. Local epidemics are driven by sexual and injecting-drug use networks in unique local contexts — whether urban, rural, along a major highway, within a fishing village, or along drug trafficking routes. Therefore, all transmission is also local. To be effective, responses to HIV should be tailored to the local context and drivers of transmission.
To help countries tailor HIV responses, MEASURE Evaluation—funded by the United States Agency for International Development (USAID) and the United States President's Emergency Plan for AIDS Relief (PEPFAR)—developed the PLACE method. An important part of MEASURE Evaluation's overall effort to strengthen health information systems (HIS), PLACE addresses the challenge of how to identify local epidemics and tailor prevention programs to them. Not only are many HIV-positive people asymptomatic, which contributes to a hidden epidemic, but also people occupying central positions in HIV transmission networks are often members of mobile, stigmatized, and hard-to-reach populations. Many people do not know their HIV status and, because many of those who do are hidden, methods are needed that are based on sound epidemiological science and that use technology appropriate to the setting to uncover local transmission networks in a way that leads to effective, ethical, and evidence-based prevention.
The PLACE method increases the understanding of the local HIV epidemic among service delivery providers, community leaders, and other stakeholders, so they can tailor local responses to the epidemic. Such understanding is crucial for those who manage HIS and service delivery programs, to enable them to allocate resources where they are most needed, to design effective programs, and to scale up programs that work. The heart of the PLACE method is to identify where to reach those most likely to acquire and transmit infection, measure gaps in services to these people, and develop action plans to address the gaps.
 Access the PLACE manual and other resources.
This publication is also available in the following language:
French