Interoperability Considerations in the Design, Development, and Implementation of mHealth Projects

fs-15-152-en.pdf
— PDF document, 300 kB (307,384 bytes)
Author(s):
Year: 2015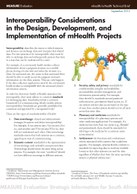 Abstract:
Interoperability describes the extent to which systems and devices can exchange data and interpret that shared data. For two systems to be interoperable, they must be able to exchange data and subsequently present that data in a way that can be understood by a user.
For example, if a community health worker collects information about a pregnant woman on a mobile phone during a home visit and refers the woman to a clinic for antenatal care, the nurse at that antenatal clinic should be able to easily access the pregnant woman's information on the clinic system. This can only happen if the data collection application used by the community health worker is interoperable with the antenatal clinic's information system.
In order for electronic health (eHealth) systems to be interoperable, they must adhere to common standards for exchanging data. Standards provide a common framework for communicating, which enables system interoperability. Standards are generally established by consensus and approved by a recognized body.
As more mHealth initiatives are implemented at national scale in South Africa, it is important that interoperability is a cornerstone of their deployment. The government will need to take the lead and ensure that these projects design and implement systems that are interoperable with the rest of the health information system.