Supporting the Rollout of Longitudinal Management Information Systems for Programs Serving Orphans and Vulnerable Children

fs-16-184.pdf
— PDF document, 169 kB (174,019 bytes)
Author(s): MEASURE Evaluation PIMA
Year: 2016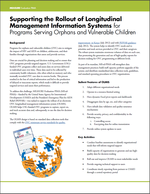 Abstract:
Programs for orphans and vulnerable children (OVC) aim to mitigate the impact of HIV and AIDS on children, adolescents, and their families through organizations that assess and provide services. 
Data are crucial for planning and decision making and to ensure that OVC programs provide targeted support. U.S. Government (USG)-funded OVC programs collect and assess data on services delivered to individual cases over time. These data used to be collected by community health volunteers, who often relied on memory and who manually recorded OVC case data in exercise books. This process resulted in the loss of critical information and led to the production of delayed or inaccurate reports, which made it difficult to provide targeted services and assess their performance. 
To address this challenge, MEASURE Evaluation PIMA (MEval-PIMA)—funded by the United States Agency for International Development (USAID) and the President's Emergency Plan for AIDS Relief (PEPFAR)—was tasked to support the rollout of an electronic OVC longitudinal management information system (OLMIS). OLMIS helps USG-funded OVC programs to capture, report on, and track accurate data and, subsequently, to use the data for decision making.