Towards a Framework for Realising the Benefits of eHealth in South Africa

fs-16-191-en.pdf
— PDF document, 109 kB (112,522 bytes)
Author(s):
Year: 2017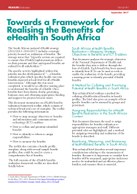 Abstract:
The South African national eHealth strategy (2012/2013–2016/2017) includes a strategic priority focused on realisation of benefits. The strategy states that "[s]pecific actions are required to ensure that eHealth implementations deliver on their promise and that anticipated benefits are realised for all stakeholders."
The specific activity highlighted within this priority was the development of "…a benefits realisation plan which specifies health outcome benefits expected at local level for all eHealth interventions." Although this was never completed, it would be an effective starting place to understand the benefits of eHealth. Once benefits have been shown clearly, generating business cases and obtaining appropriate funding and support for projects become easier.
This document summarises an eHealth benefits realisation framework toolkit, which consists of technical briefs and a set of examples.