Migori County Family Planning – January to June 2016

fs-16-193-en.pdf
— PDF document, 941 kB (963,734 bytes)
Author(s): MEASURE Evaluation PIMA
Year: 2017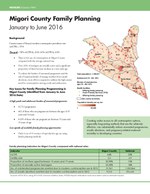 Abstract:
The current status of Kenya's modern contraceptive prevalence rate (mCPR) is 53%. The goal is 58% mCPR by 2020, and 66% mCPR by 2030.
There is low use of contraceptives in Migori County compared with the average national rate. To reduce the burden of unwanted pregnancies and the risk of maternal deaths of teenage mothers from unsafe abortions, more effort is required to address the high unmet need for contraceptives among youth and adolescents.
Key Issues for Family Planning Programming in Migori County include:
A high youth and adolescent burden of unwanted pregnancies
Low uptake of available family planning opportunities
Reliance on short-acting methods and significant shift to long-acting methods
Commodity security
Poor use of data for decision making
We can do more, by focusing on the sexual and reproductive health issues of adolescents and youth. Meeting their family planning demands would accelerate the use of family planning. As a starting point, health or other facilities offering youth-friendly services need to be mapped for a better understanding of their accessibility and coverage of preferred products for adolescents. Such information would assist programs to make decisions on how to make these services accessible.
Creating wider access to all contraceptive options, especially long-acting methods that are the relatively effective, can substantially reduce unwanted pregnancies, unsafe abortions, and pregnancy-related maternal mortality in developing countries.