Measuring Process Improvements Supported by mHealth Initiatives

fs-16-196-en.pdf
— PDF document, 147 kB (151,339 bytes)
Author(s): MEASURE Evaluation SIFSA
Year: 2016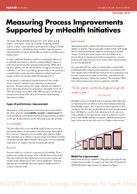 Abstract:
The South African mHealth Strategy 2015–2019 defines mobile health—or mHealth—as the use of mobile computing, medical sensors, or other communication technology in the delivery of health-related services. mHealth has the potential to empower patients with information to inform their healthcare decisions and link them to health services.
As with a traditional healthcare initiative, measuring the efficacy of an mHealth intervention is critical to understanding the impact on outcomes and processes that such interventions bring. While there has been criticism over the lack of evidence to support investment in mHealth, the focus on providing rigorous evidence via randomized controlled trials or other intensive evaluation methods may lead to simpler and less cost-intensive methods being ignored.
An alternative to randomized controlled trials and other, similar resource-intensive methods is the performance measurement approach. This approach uses the regular collection and analysis of data to assess improvements in performance and quality of care. This brief provides an overview of the different types of performance measurements, along with tools and resources for implementing improvement studies.