Evaluation of the Partnership For HIV-Free Survival Country Assessment: Lesotho

Lesotho Evaluation of the Partnership for HIV Free Survival_FS-18-250.pdf
— PDF document, 171 kB (175,702 bytes)
Author(s): MEASURE Evaluation
Year: 2018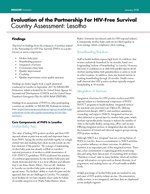 Abstract:
The Partnership for HIV-Free Survival (PHFS) was implemented in six countries in eastern and southern Africa between 2012 and 2016. PHFS was a collaboration among United States President's Emergency Plan for AIDS Relief, UNICEF, and the World Health Organization (WHO) to accelerate the uptake of the WHO 2010 guidelines on HIV and infant feeding in participating countries: Kenya, Lesotho, Mozambique, South Africa, Tanzania, and Uganda. Although specific aims differed slightly by country, the initiative was designed to reduce mother-to-child transmission of HIV and increase child survival through improvements in breastfeeding practices, antiretroviral therapy uptake and coverage among HIV-positive pregnant women and mothers, and overall mother-baby care.
In Lesotho, health facilities are managed either by the government or by the Christian Health Association of Lesotho, and all are considered part of the national system.
This brief presents findings from the evaluation of activities related to PHFS in Lesotho. Findings from assessments of PHFS in other participating countries are available here.