Assessment of the Effectiveness of the MomConnect Helpdesk in Handling and Resolving Complaints

fs-18-277-en.pdf
— PDF document, 717 kB (735,135 bytes)
Author(s): MEASURE Evaluation SIFSA
Year: 2018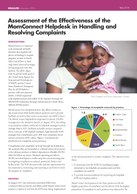 Abstract:
MomConnect is a national-scale ministerial mHealth initiative that employs cell phone technology to register pregnant women in South Africa and deliver to them stage-based maternal messages during pregnancy and after delivery. The effort aligns with the global health goal of the United States Agency for International Development (USAID) and the United States President's Emergency Plan for AIDS Relief to prevent child and maternal deaths. USAID supported early implementation and rollout of the initiative through the MEASURE Evaluation-Strategic Information for South Africa (MEval-SIFSA) project.
MomConnect has a helpdesk feature that allows mothers to ask maternal and child health-related questions and to provide feedback on services they receive at antenatal care (ANC) clinics. The MomConnect helpdesk has responded to almost 250,000 messages since the initiative's launch, in August 2014. According to quantitative analysis conducted on helpdesk messages received through March 2017, feedback on health services comprised about 4 percent of all helpdesk messages. Approximately 8,100 messages were compliments and 1,800 were complaints about services received at ANC clinics.
Compliments and complaints received through the helpdesk at the national office are forwarded to a MomConnect focal person at the relevant province or district department of health (DOH) office for follow-up action. Standard operating procedures (SOPs) were developed to outline steps for communicating and investigating complaints at national, provincial, district, and facility levels. The SOP document also includes requirements for documentation, monitoring, and reporting at each level to track the progress of complaints.