Applied Monitoring and Evaluation Postgraduate Course Launched in Tanzania

fs-18-303.pdf
— PDF document, 299 kB (306,901 bytes)
Author(s): MEASURE Evaluation– Tanzania
Year: 2018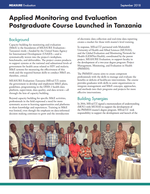 Abstract:
Capacity building for monitoring and evaluation (M&E) is the foundation of MEASURE Evaluation–Tanzania's work—funded by the United States Agency for International Development (USAID)—and is systematically woven into the project's workplans, benchmarks, and deliverables. The project creates products to support systems at the national and subnational levels of government for health areas related to HIV and malaria. M&E systems for measuring the effectiveness of this work and the required human skills to conduct M&E are,
therefore, critical.
MEASURE Evaluation–Tanzania (MEval-TZ) assists the government to develop and implement M&E plans, guidelines, programming in the DHIS 2 health data platform, supervision, data quality, and data review—all through the lens of capacity building.
Beyond capacity building for specific M&E activities, professionals in the field expressed a need for more systematic access to learning opportunities and platforms to share knowledge and experiences. Training in M&E was limited, even though the emphasis on data-informed decision making continues to grow and the introduction of electronic data collection and real-time data reporting creates a market for those with master's level training.
In response, MEval-TZ partnered with Muhimbili University of Health and Allied Sciences (MUHAS), and the Global Evaluation and Monitoring Network for Health (GEMNet-Health), coordinated by the parent project, MEASURE Evaluation, to support faculty in the development of a two-year degree program: Project Management, Monitoring, and Evaluation in Health (PMMEH) This brief shares more.