MEASURE Evaluation's Health Information System Learning Agenda

fs-18-313.pdf
— PDF document, 1,879 kB (1,924,837 bytes)
Author(s): MEASURE Evaluation
Year: 2018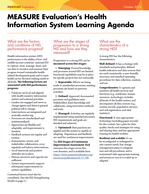 Abstract:
MEASURE Evaluation works with more than 20 countries to improve HIS management, governance, and performance. In July 2014, the United States Agency for International Development asked MEASURE Evaluation to build an evidence base for which investments in HIS are effective and useful. The result has been MEASURE Evaluation's HIS Learning Agenda, a collaborative and adaptive approach to documenting and applying results for HIS strengthening. The Learning Agenda frames its work by seeking to answer three questions:
What are the factors and conditions of HIS performance progress?
What are the stages of HIS progression to a strong HIS and how are they measured?
What are the characteristics of a strong HIS?
This brief reviews each question and provides information on the Learning Agenda and related resource center.