Real-time Epidemiological Surveillance in Mali: Data Quality for Good Decision Making to Prevent and Respond to Epidemics

fs-18-315.pdf
— PDF document, 497 kB (509,573 bytes)
Author(s): MEASURE Evaluation
Year: 2018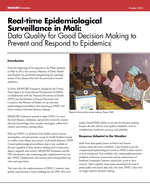 Abstract:
From the beginning of the response to the Ebola epidemic in Mali in 2014, the country's Ministry of Public Health and Hygiene has prioritized strengthening the reporting system of key diseases that have the potential to become epidemics.
In 2016, MEASURE Evaluation, funded by the United States Agency for International Development (USAID), in collaboration with the National Directorate of Health (DNS) and the Division of Disease Prevention and Control in the Ministry of Health, set up real-time epidemiological surveillance and reporting in DHIS 2 for better evidence-informed decision making.
MEASURE Evaluation assisted to adapt DHIS 2 to cover the chief diseases, conditions, and priority events the country selected: hemorrhagic fever, measles, meningitis, yellow fever, cholera, and anthrax, among others.
Mali uses DHIS 2 at all levels of the health system (central, intermediate, and operational), except for health facilities located in conflict zones (about four percent of all health facilities). DHIS 2-based epidemiological surveillance data is now available to all users regardless of their decision-making level (community, district, regional, and central). MEASURE Evaluation and the DNS developed a user monitoring plan, implemented one year after DHIS 2 deployment, that features post-training follow-up visits and supervision.
Two years after the implementation of DHIS 2, however, data quality issues became a major challenge for the DNS. Poor data quality limited Mali's ability to use data for decision making because the data did not meet quality standards—such as completeness, timeliness, accuracy, and reliability. This brief discusses efforts to improve data quality.
This publication is also available in the following language:
French