Development of a Monitoring and Evaluation Framework for Master Facility Lists and Health Facility Registries in Nigeria

Development of an M&E Framework for MFLs & HFRs in Nigeria_FS-18-317.pdf
— PDF document, 1,227 kB (1,257,189 bytes)
Author(s): MEASURE Evaluation
Year: 2018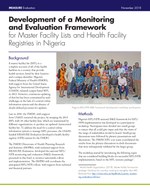 Abstract:
A master facility list (MFL) is a complete account of all of the health facilities in a country that provide health services, listed by their location and a unique identifier. Nigeria's Federal Ministry of Health (FMOH), with support from the United States Agency for International Development (USAID), released a paper-based MFL in 2013. However, continuous updating of this list has been constrained by such challenges as the lack of a central online information system and the absence of clearly defined processes for updates.
Late in 2016, the FMOH, with support from USAID, restarted the project, by merging the 2013 MFL with 18 other facility lists, which are maintained by different organizations, to produce an updated, harmonized facility list. To address the need for a central online information system to manage MFL processes, the USAID-funded MEASURE Evaluation developed a health facility registry (HFR) system for the FMOH.
The FMOH Directorate of Health Planning Research and Statistics, with technical support from MEASURE Evaluation, developed the national MFL/HFR monitoring and evaluation framework, presented in this brief, to monitor nationwide rollout and implementation.