MEASURE Evaluation Mozambique Overview

fs-18-325-en.pdf
— PDF document, 556 kB (570,075 bytes)
Author(s): MEASURE Evaluation
Year: 2018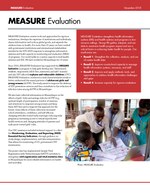 Abstract:
MEASURE Evaluation has worked in Mozambique for 10 years.
Since 2016, MEASURE Evaluation has supported the DREAMS Initiative (a program to help girls develop into "determined, resilient, empowered, AIDS-free, mentored, and safe" women) and also HIV-affected orphans and vulnerable children (OVC). MEASURE Evaluation conducted a male characterization study to better understand the sexual partners of adolescent girls and young women (AGYW). The study aimed to improve the delivery of HIV prevention services and thus contribute to the reduction of infection rates among AGYW in Mozambique.
We also have collected information in Mozambique on the effects of girls' clubs and savings clubs for AGYW (e.g., optimal length of participation, number of sessions, and retention) to empower young women and keep them HIV-free and to improve this approach for the future. Some effects of these clubs were increased school attendance, confidence, and self-efficacy; changing attitudes toward early marriage; reducing early pregnancy; increasing access to sexual reproductive health services; and changing attitudes of parents and male peers toward girls' roles.
Our OVC assistance included technical support to collect the Monitoring, Evaluation, and Reporting (MER) Essential Survey Indicators, through guidance on study design, implementation, and data interpretation. This allows for monitoring of U.S. government OVC investments.
The project also has implemented Sample Vital Registration with Verbal Autopsy (SAVVY) activities to strengthen civil registration and vital statistics data in Mozambique for more reliable information on health and mortality.