The PEPFAR Local Capacity Initiative Evaluation Findings in Ghana

fs-19-417.pdf
— PDF document, 1,750 kB (1,792,361 bytes)
Author(s): Mary Freyder, Samuel Essah
Year: 2020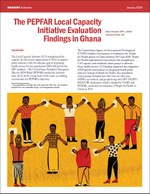 Abstract:
The Local Capacity Initiative (LCI) strengthened the capacity of civil society organizations (CSOs) to support policy advocacy, with the ultimate goal of improving health services for key populations (KPs) affected by the HIV epidemic. The United States President's Emergency Plan for AIDS Relief (PEPFAR) funded the initiative from 2013–2018 to help local CSOs create an enabling environment for PEPFAR's objectives.
The United States Agency for International Development (USAID) funded a local partner to implement the People for Health project in Ghana between 2015 and 2020. People for Health implemented interventions that strengthened CSO capacity and mobilized citizen groups to advocate better health services. LCI funding supported the integration of KP-specific interventions in the general health policy advocacy strategy of People for Health. Key population citizen groups included men who have sex with men (MSM), sex workers, and people living with HIV (PLHIV). MEASURE Evaluation, which is funded by USAID and PEPFAR, conducted an evaluation of People for Health in Ghana in 2019. 
This issue brief provides an overview of the most significant change findings from the evaluation of the People for Health project in The Greater Accra and Eastern Regions. Access additional resources on the LCI evaluation in Ghana and Uganda.