Lessons Learned in Health Information System Strengthening: What Worked in the Democratic Republic of the Congo

gr-19-97.pdf
— PDF document, 514 kB (526,885 bytes)
Author(s): Lavanya Gupta, Scott McKeown, Johanna Karemere, Olivier Kakesa, Ramine Bahrambegi
Year: 2019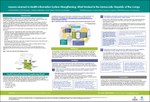 Abstract:
MEASURE Evaluation, a project funded by the United States Agency for International Development (USAID), works in 50 low- and middle-income countries, implementing 300 health system strengthening activities to generate high-quality health information.
Since 2014, MEASURE Evaluation has helped the National Malaria Control Program (NMCP) of the Democratic Republic of the Congo (DRC) streamline and improve routine malaria data collection, reporting, management, and use at all levels of its health system. The DRC previously reported malaria data in an Access-based system that limited the NMCP's ability to collect and analyze them.
We provided technical and financial support and collaborated with the NMCP to achieve the following:
Supported the rollout of the electronic health information platform—District Health Information Software, version 2 (DHIS2)—at all levels of the health system: in all 178 health zones and 77 health facilities (designated as Centers of Excellence [COEs]) in 9 priority provinces of the U.S. President's Malaria Initiative (PMI)
Integrated malaria indicators in DHIS2
Trained more than 400 staff in monitoring and evaluation (M&E), data collection, analysis, and use
Developed health information system (HIS) management resources and implemented data-review and data-quality-check mechanisms
Created and convened technical working groups (TWGs) to manage M&E and malaria intervention activities at the national and provincial level
We documented the outcomes of our work with the NMCP and identified effective HIS-strengthening interventions to improve the quality of health data, including routine malaria data. This poster, presented at the  2019 annual meeting of the American Society of Tropical Medicine and Hygiene (ASTMH), shares more.