Evaluating malaria programmes in moderate- and low-transmission settings: practical ways to generate robust evidence
ja-20-281
Author(s): Ruth A. Ashton, Debra Prosnitz, Andrew Andrada, Samantha Herrera & Yazoumé Yé
Year: 2020
Ashton, R.A., Prosnitz, D., Andrada, A.  et al.  Evaluating malaria programmes in moderate- and low-transmission settings: practical ways to generate robust evidence. Malar J 19, 75 (2020).  https://doi.org/10.1186/s12936-020-03158-z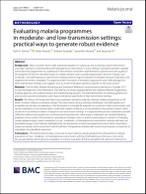 Abstract:
Background
Many countries have made substantial progress in scaling-up and sustaining malaria intervention coverage, leading to more focalized and heterogeneous transmission in many settings. Evaluation provides valuable information for programmes to understand if interventions have been implemented as planned and with quality, if the programme had the intended impact on malaria burden, and to guide programmatic decision-making. Low-, moderate-, and heterogeneous-transmission settings present unique evaluation challenges because of dynamic and targeted intervention strategies. This paper provides illustration of evaluation approaches and methodologies for these transmission settings, and suggests how to answer evaluation questions specific to the local context.
Methods
The Roll Back Malaria Monitoring and Evaluation Reference Group formed a task force in October 2017 to lead development of this framework. The task force includes representatives from National Malaria Programmes, funding agencies, and malaria research and implementing partners. The framework builds on existing guidance for process and outcome evaluations and impact evaluations specifically in high transmission settings.
Results
The theory of change describes how evaluation questions asked by national malaria programmes in different contexts influence evaluation design. The transmission setting, existing stratification, and data quality and availability are also key considerations. The framework is intended for adaption by countries to their local context, and use for evaluation at sub-national level. Confirmed malaria incidence is recommended as the primary impact indicator due to its sensitivity to detect changes in low-transmission settings. It is expected that process evaluations provide sufficient evidence for programme monitoring and improvement, while impact evaluations are needed following adoption of new mixes of interventions, operational strategies, tools or policies, particularly in contexts of changing malaria epidemiology. Impact evaluations in low-, moderate-, or heterogeneous-transmission settings will likely use plausibility designs, and methods highlighted by the framework include interrupted time series, district-level dose–response analyses, and constructed control methods. Triangulating multiple data sources and analyses is important to strengthen the plausibility argument.
Conclusions
This framework provides a structure to assist national malaria programmes and partners to design evaluations in low-, moderate- or heterogeneous-transmission settings. Emphasizing a continuous cycle along the causal pathway linking process evaluation to impact evaluation and then programmatic decision-making, the framework provides practical guidance in evaluation design, analysis, and interpretation to ensure that the evaluation meets national malaria programme priority questions and guides decision-making at national and sub-national levels.