Geographic Approaches to Global Health: A Self-Directed Mini-Course

MS-12-56.pdf
— PDF document, 2,599 kB (2,662,315 bytes)
Author(s): Spencer S, Stewart J, Wilkes B
Year: 2012 (rev. 2015)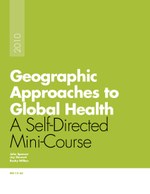 Abstract:
It is important to harness geography to manage, analyze, and leverage spatial data effectively when planning, monitoring, and evaluating health sector programs. Through this course, learners will gain an understanding of how to use spatial data to enhance the decision-making process for health program implementation in limited resource settings.
By the end of this course, the learner will—within a public health context—be able to:
Understand the basics of spatial data and its role in decision making
Explain why geographic data and tools are important for decision makers
Understand geography as a unifying framework and GIS as a tool to collect, link, analyze, visualize, manage, and share data and information
Address the challenges and explore the opportunities of working with spatial data to produce geographic information and geographically based knowledge
Distinguish between the different tools used to collect, analyze, and manipulate geographic data
Communicate with technical specialists to develop program-specific geographic products
This course is appropriate for public health program planners, managers, and professional staff who are interested in learning how geography and spatial data and tools can benefit their programs. The course is designed for individuals without a background in geographic information system(s) (GIS) or who are not specialists in medical geography.