Mapping Community-Based Global Health Programs: A Reference Guide for Community-Based Practitioners

ms-13-76.pdf
— PDF document, 1,882 kB (1,927,891 bytes)
Author(s):
Year: 2014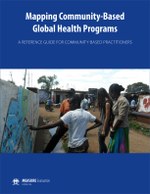 Abstract:
As visual displays, maps showing community resources and health services serve as focal points for communities to discuss program needs and gaps with themselves and with other stakeholders.  As such, they can serve as powerful evaluation and advocacy tools supporting improved targeting of services and better health outcomes.
Across the global health community, mapping efforts are incorporating community knowledge, detailing where services are available, outbreaks occurring, and where treatment is been provided.  Using maps to visual displays this information can empower communities and program planners with using this information to support the effectively deliver health services to those who need them.
This document serves as a guidance framework for those aiming to use maps to support community-based programs.  We identify key questions to ask when planning a mapping effort, review necessary resources, and outline the four main stages of the mapping process:
1. Community engagement
2. Data collection
3. Visualization
4. Analysis and Information use
While each community based project is different, and will require its own tailored approach, this guidance framework is designed to help program managers walk through the process of incorporating maps for M&E of global health programs.