Collecting PEPFAR MER Essential Survey Indicators: A Supplement to the Orphans and Vulnerable Children Survey Tools

MS-14-90-en_Oct2017rev.pdf
— PDF document, 1,014 kB (1,038,838 bytes)
Author(s): MEASURE Evaluation
Year: 2014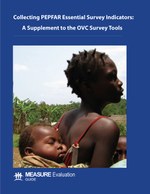 Abstract:
This document was prepared by MEASURE Evaluation at the request of the PEPFAR OVC Technical Working Group and reflects a legislative mandate to monitor and evaluate programs funded by the U.S. President's Emergency Plan for AIDS Relief (PEPFAR).
As part of its new monitoring, evaluation, and reporting (MER) guidance, PEPFAR launched a set of outcome indicators for PEPFAR programs serving orphans and vulnerable children (OVC). These outcome indicators reflect internationally-accepted developmental milestones and collectively measure holistic wellbeing for children and their families over time. Indicators track the ways OVC programs gain from and contribute to the broader HIV and child protection response. These outcome indicators are designated as "essential survey indicators", meaning that PEPFAR requires countries to collect these indicators biennially. These indicators are held in country to be used to inform program planning and review, both by country and visiting headquarters staff.
The purpose of this document is to provide U.S. government staff and others with a high-level understanding of outcomes monitoring and approaches to outcomes monitoring to enable effective procurement of data collection services for these new outcome indicators.
Two appropriate methods for outcomes monitoring are briefly described: cluster sample surveys and Lot Quality Assurance Sampling (LQAS) surveys. Like evaluation, outcomes monitoring should be carried out by a group that is independent and external to program delivery. The methodology for outcomes monitoring must be documented in a data collection protocol. Unlike evaluation, outcomes monitoring protocol may be exempt from full ethical review. However, protocols should be submitted to an ethics review board to certify and document exemption. A data collection tool and analysis guidance is provided.