Participatory Monitoring & Evaluation in Tanzania's Health and Social Service Programmes: Field Manual

ms-17-115.pdf
— PDF document, 4,802 kB (4,917,733 bytes)
Author(s): MEASURE Evaluation Tanzania
Year: 2017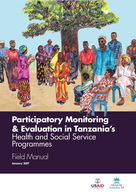 Abstract:
This field manual was developed as part of an effort to build a participatory monitoring and evaluation (PM&E) programme for health and social services at the community level in the United Republic of Tanzania. It serves as a toolkit of useful PM&E techniques for improving the performance and impact of community-based interventions, such as those involving the most vulnerable children (MVC), home-based care (HBC), and gender-based violence (GBV).
This manual is designed to help facilitators of PM&E apply PM&E techniques in the field. The manual includes a five-step PM&E programme path and six community group tools. The facilitators undergo a four-day training, which focuses on PM&E concepts, methods, and tools to be used with beneficiaries and providers at the community level. The PM&E programme will enhance the relationship among all stakeholders in the value chain in health-related services and other social service providers.
Access a related training manual and slide presentation.