Implementing Nigeria's Master Facility List: Standard Operating Procedures for Maintaining Nigeria's Health Facility Registry

Standard Operating Procedures for Maintaining Nigeria's Health Facility Registry_Final_MS-18-150.pdf
— PDF document, 1,339 kB (1,371,249 bytes)
Author(s): MEASURE Evaluation
Year: 2018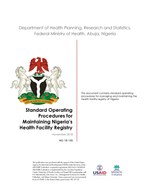 Abstract:
The Master Facility List (MFL) is a complete list of all health facilities that are providing health services in a country. The health facilities are identified by location and a unique facility identifier. With support from the United States Agency for International Development (USAID), the Federal Ministry of Health released a paper-based MFL in 2013. The continuous updating of this list has been constrained by several challenges, including the lack of a centralized online information system and the lack of clearly defined processes for updating the MFL.
To address the need for a centralized online information system to manage MFL processes, in collaboration with the Federal Ministry of Health, MEASURE Evaluation, which is funded by USAID, developed the Health Facility Registry (HFR) system. The HFR has been populated with the MFL. The HFR contains the list of hospitals and clinics that have been validated at the state level. To maintain the process of updating the MFL, a standard operating procedure was needed to guide the registration of new health facilities and to update the list of health facilities already registered, whenever necessary. The standard operating procedure will allow federal regulatory authorities and all responsible offices and agencies to have a standard process and procedures through which to engage with the HFR. These entities will be able to add new facilities, deactivate facilities that are no longer operational, and upgrade the facility level.
This manual outlines the processes and actions needed to facilitate the addition of a new facility in the HFR.
Other resources to support the implementation of Nigeria's MFL are available here: https://www.measureevaluation.org/countries/nigeria/toolkit-for-implementing-the-health-facility-registry-in-nigeria/