Health Information System Stages of Continuous Improvement Toolkit: Digital Assessment Tool Add-On Module

HIS Stages of Continuous Improvement Digital Assessment Tool_MS-19-158a.pdf
— PDF document, 3,318 kB (3,397,670 bytes)
Author(s):
Year: 2020
MEASURE Evaluation. (2020). Health Information System Stages of Continuous Improvement Toolkit: Digital Assessment Tool Add-On Module. Chapel Hill, NC, USA: MEASURE Evaluation, University of North Carolina.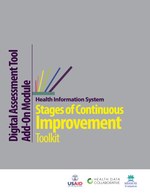 Abstract:
This add-on module is designed to accompany the full User Guide for the Health Information System (HIS) Stages of Continuous Improvement (SOCI) Toolkit, available at https://www.measureevaluation.org/resources/
publications/ms-19-158. The guide was developed by the United States Agency for International Development-funded MEASURE Evaluation project, the United States Centers for Disease Control and Prevention, and members of the Health Data Collaborative's Digital Health and Interoperability Working Group. Users of the digital assessment should review the full User Guide before using the digital version of the assessment. A description of the toolkit and its background and the assessment timeline and process can be found there. This document provides only technical guidance to use the digital version of the SOCI assessment.
The HIS SOCI app can be downloaded from GitHub through this link: https://github.com/talexie/his_soci/blob/master/ dist/his_soci.zip/. Detailed instructions can be found in the Digital Assessment Tool Add-On Module.