Preventing HIV among Guyana's Key Populations: Guidelines

ms-19-171.pdf
— PDF document, 3,810 kB (3,901,452 bytes)
Author(s): MEASURE Evaluation
Year: 2019
MEASURE Evaluation. (2019). Preventing HIV among Guyana's Key Populations: Guidelines. Chapel Hill, NC, USA: MEASURE Evaluation, University of North Carolina.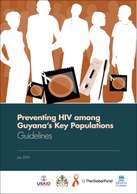 Abstract:
These guidelines are designed to outline the public health response to HIV among key populations (KPs) in Guyana. The specific objectives are to:
Define the populations of interest
Define the combination prevention package for KPs
Update guidance on the operationalization of interventions
Define programme monitoring and evaluation (M&E) for KP prevention activities
The focus of these guidelines is on HIV prevention for KPs and priority populations. To meet the HIVision 2020 goal of eliminating HIV in Guyana, a multi-pronged approach that goes beyond prevention will be required. These guidelines highlight the approaches needed before care and treatment are given and linking with treatment for people who have HIV.