Evaluating Programs for Prevention of Mother-to-Child Transmission of HIV Using Process Tracing: Guide and Sample Protocol

ms-19-179.pdf
— PDF document, 2,138 kB (2,189,626 bytes)
Author(s): Bobrow, E. A., Munson, A.J., & Davis, H. B.
Year: 2019
Bobrow, E. A., Munson, A.J., & Davis, H. B. (2019). Evaluating Programs for Prevention of Mother-to-Child Transmission of HIV Using Process Tracing: Guide and Sample Protocol. Chapel Hill, NC, USA: MEASURE Evaluation, University of North Carolina.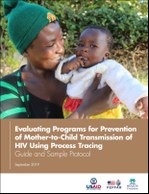 Abstract:
This guide offers the following resources:
Information and references on previous evaluations of the Partnership for HIV-Free Survival (PHFS) conducted by MEASURE Evaluation
Background information on our concept and rationale for using the process tracing method to evaluate the PHFS approach
Information about the process tracing method as we understand it to be applied to public health evaluations
A sample protocol that can be adapted to evaluate prevention of mother-to-child transmission (PMTCT) of HIV programs in other countries using process tracing, including specific language from our protocol on evaluating PHFS using process tracing
Natural audiences for this guide are evaluators or researchers interested in the innovative method of process tracing in public health evaluations, in partnership with other stakeholders, such as government and nongovernmental implementers of PMTCT programs. We highly recommend that investigators develop protocols in a participatory manner, involving partners at the local, national, and international levels, and in conjunction with donors. It is essential to have input from key stakeholders, and to follow their guidance, particularly in designing procedures to inform and contact study participants in a culturally appropriate way. Careful planning and participation will help facilitate use of the generated evidence to improve programs and policies.