Electronic Health Records in Colima, Mexico: Case Study on Design and Implementation

sr-12-70.pdf
— PDF document, 3,224 kB (3,302,279 bytes)
Author(s): Hernandez-Ávila JE, Palacio-Mejia LS, Lara-Esqueda A, et.al.
Year: 2012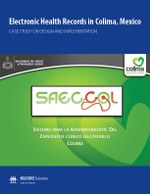 Abstract:
This document is the result of the joint efforts of bi-national institutions of the United States and Mexico. The U.S. Agency for International Development (USAID) provided funding for the project through the MEASURE Evaluation project. Tulane University (United States) and the National Public Health Institute (INSP, in Mexico) developed the design and analysis. The document contains information on the main findings of the project, Electronic Health Records Management System in Colima: Case Study on Implementation. The main objective was to provide information related to the design and implementation of the Management of the Electronic Health Record in Colima (SAECCOL, in Spanish). The results are intended to serve as a guide for other states in Mexico, and other countries in Latin America and the Caribbean, to develop and strengthen their Electronic Health Records (EHR). The study was conducted between August and November 2011.
 The methodology used was both quantitative and qualitative in nature. The quantitative aspect was used to define the state's socio-economic and epidemiological profile. To learn about stakeholders' perceptions of implementation and benefits, qualitative analysis was conducted, using in-depth interviews and focus groups of SAECCOL's managers, technicians, operators and users, at a local and federal level. 
 The SAECCOL is a system agreed upon among various state actors (doctors, information technology experts, managers and consultants of the state's health department, and other area professionals), adjusted to the needs of the state through national and international guidelines. The EHR is currently being updated and expanded according to the State Development Plan 2009–2015, which guarantees the budget and the continuity of the project. The use of the tool has fluctuated since it was implemented but it was expected that 99% coverage would be reached by the end of 2011.
 One of the greatest benefits of the EHR is that it is a "homemade" tool molded to the requirements and demands of users. Project participants felt that were are still many challenges to address including a need to: adapt the system to current regulations, achieve interoperability among health units at different levels of care, ensure proper availability of infrastructure and support to improve data quality, to standardize processes, ensure the quality and efficiency of health services in general, and promote the use of information for the benefit of all users.
This publication is also available in the following language:
Spanish