Helpful Hints: PLACE

tl-19-77.pdf
— PDF document, 185 kB (189,594 bytes)
Author(s): MEASURE Evaluation
Year: 2019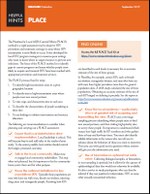 Abstract:
The Priorities for Local AIDS Control Efforts (PLACE) method is a rapid assessment tool to improve HIV prevention and treatment coverage in areas where HIV transmission is most likely to occur. It was developed for local HIV program managers in resource-poor settings who want to know where to target resources to prevent new infections. The focus of the PLACE method is to identify gaps in current programs and assess whether people most likely to acquire and transmit HIV have been reached with appropriate prevention and treatment services.
The PLACE protocol has five steps:
To identify high-transmission areas in a given geographic location
To identify sites in high-transmission areas where people meet new sexual partners
To visit, map, and characterize sites in each area
To describe the characteristics of people socializing at these sites
To use findings to inform interventions and resource allocation
This brief shares recommendations to consider when planning and carrying out a PLACE assessment. Access additional PLACE resources at https://www.measureevaluation.org/resources/tools/hiv-aids/place.