Systemic Barriers to MomConnect's Capacity to Reach Registration Targets – A Process Evaluation

tr-16-147-en.pdf
— PDF document, 1,579 kB (1,617,480 bytes)
Author(s): MEASURE Evaluation-SIFSA
Year: 2017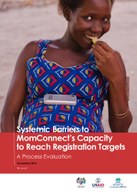 Abstract:
MomConnect, an initiative of South Africa's National Department of Health, is designed to improve services to mothers and children, by sending preventive healthcare information to pregnant women through mobile-phone text-messaging technology. The idea is for healthcare facilities to register each newly pregnant woman in a national database during her first antenatal care (ANC) visit. Registrants then would receive text messages on their mobile phones at specified stages before and after childbirth. They could also use the technology to provide feedback to the healthcare facility.
The program was launched in August 2014. During the first five months of 2015, healthcare facilities registered 305,000 pregnant women to receive messages through MomConnect. Registrations averaged about 7,334 women per week nationwide, or 39 percent of the 19,000 women appearing weekly for their first antenatal care visits. Although this represents significant progress, the program did not reach its target goal of registering at least 60 percent of first ANC patients at all facilities by June 1, 2015.
National Department of Health officials were interested in understanding why registration targets were not achieved at the facility level. This operational research project was designed to learn more about the following:
MomConnect implementation procedures at facilities
Management and supervisory structures at facilities
Staff training procedures for MomConnect
Common characteristics for high-registration facilities and for low-registration facilities
We used a process evaluation framework for this research. Three districts (each from a different province) were selected to represent urban, periurban, and rural areas. All the facilities were stratified, and then some were selected at random from each district for this study. For each of the three sample districts, we selected five facilities from the highest-performing quartile, five from the lowest-performing quartile, and 10 from the two middle-performing quartiles (20 facilities from each district; 60 facilities total). We interviewed ANC staff members at each facility about the registration process, the training they received, and the management structures in place for MomConnect. We also interviewed supervisors at facilities, district offices, and provincial offices and three training partners.
This report contains recommendations to improve registration throughout the system with new protocols for management, supervision, training, and reporting practices. We recommend using batched or group registration when possible. Retraining for all facilities should incorporate findings from this study. Training should emphasize that registrations must occur during the first ANC visit. To prevent time-outs and improve efficiency and performance, all required registration information should be available before the registration process starts. The challenges identified in this study may be addressed by implementing a new training protocol that includes clear supervisory structures and continual improvement planning, using performance feedback from the MomConnect database.