Integrating Heath Facility Information in Nigeria: Progress on a Master Facility List and Health Facility Registry

tr-18-267.pdf
— PDF document, 2,855 kB (2,924,526 bytes)
Author(s): MEASURE Evaluation
Year: 2018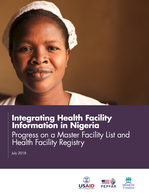 Abstract:
A master facility list (MFL) is a data source for countries or a district within a country that comprises a list of health facilities, by location and type of services delivered; a data system that houses the data on each facility; and the governance structure to support the continued updating and maintenance required to sustain the MFL's accuracy.
An accurate list of health facilities referenced by their geographic location is a crucial tool for the health sector to be able to offer services that meet local needs, and to ensure HIV services are offered in the areas where there is the greatest potential to achieve control of the HIV epidemic. MEASURE Evaluation—funded by the United States Agency for International Development (USAID) and the United States President's Emergency Plan for AIDS Relief (PEPFAR)—is a global leader in working with countries to build national master facility lists.
Developing an MFL and a health facility registry (HFR) to house data was a priority action in the Nigeria Health Information System Strategic Plan (2014–2018). However, this was yet to be fully achieved in 2016, with a chief shortcoming that processes to facilitate ongoing management did not exist. As part of strengthening the national health information system (HIS) in Nigeria, addressing this gap was prioritized by USAID, which had previously supported the development of a paper-based MFL in the country between 2011 and 2013.
This brief documents the first phase of the process of creating a sustainable MFL/HFR, including the creation of local ownership through strong governance structures and the consolidation and validation of the facility listing. We display the process in a timeline (Figure 1) and in a model (Figure 2) that illustrates improvements made and those desired in three main MFL elements: (1) a facility listing; (2) a facility registry; and (3) governance structures in Nigeria. (The rollout of the MFL/HFR to the states so they may update the outstanding data elements in the HFR and begin maintaining the MFL is the next crucial step.)
The process may serve as a guide for other countries wishing to refine or establish an MFL/HFR.