The MEASURE Evaluation–Tanzania Small Grants Program: Building Capacity and Informing HIV/AIDS Programs

Report on the MEASURE Evaluation-Tanzania Small Grants Program_TR-18-273.pdf
— PDF document, 1,134 kB (1,161,343 bytes)
Author(s): Bridgit Adamou
Year: 2018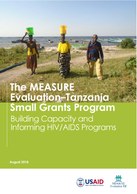 Abstract:
Participants attending the 2010 First Global Symposium on Health Systems Research learned that fewer than 10 percent of researchers working in the previous decade in low-income countries on research studies on health systems came from such countries. At the 2012 AIDS Conference, the International AIDS Society issued a call to build on the evidence base and best practices in HIV services and treatment, yet the opportunity to conduct health systems research remained largely unattainable to researchers living in the very countries being studied.
Small grants support health research in low-income countries and give country-based research groups the opportunity to examine local HIV issues and disseminate their findings directly to stakeholders where the research can inform policies and programs. Interventions that work through host-country systems galvanize the knowledge, experience, and support of ministries or local institutions and promote the vision of self-reliance shared by the United States Agency for International Development (USAID) and USAID-funded MEASURE Evaluation.
MEASURE Evaluation–Tanzania, a five-year associate award of USAID that began in 2014, sought to improve the evidence base on health systems by conducting research and building research capacity. To accomplish this, it instituted a small grants program that, through two rounds, provided technical and financial support to a number of local research groups. The researchers focused on research gaps for community health and social service programs addressing HIV/AIDS and the evidence base on linkages and retention in HIV/AIDS care and treatment programs. The program supported local researchers with primary and secondary data analysis, the development of a research manuscript, and assistance with the implementation of data use activities. This paper outlines the goals, processes, and results of implementing the small grants program and draws lessons from the experience.