Strengthening Côte d'Ivoire's Health Information System to Combat HIV: Validating Data on the Effectiveness of Interventions

Strengthening Cote d'Ivoire's HIS to Combat HIV_TR-18-291-Final.pdf
— PDF document, 1,269 kB (1,299,753 bytes)
Author(s): MEASURE Evaluation
Year: 2018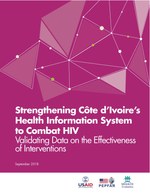 Abstract:
MEASURE Evaluation—a project funded by the United States Agency for International Development and the United States President's Emergency Plan for AIDS Relief—has, since 2004, supported the efforts of the Government of Côte d'Ivoire to strengthen its health management information system and HIV monitoring and evaluation systems. 
To contribute to evidence about what works to strengthen health information systems (HIS), MEASURE Evaluation is assessing HIS investments in Côte d'Ivoire as part of the project's Learning Agenda. The evaluation is designed to yield evidence of how HIS strengthening investments affect HIS performance and public health outcomes.
The evaluation specifically focused on how HIV investments affected the overall strength of the HIS in Côte d'Ivoire and, vice versa, how HIS investments might improve HIV outcomes.
The evaluation had two components: data triangulation to validate data by cross-referencing multiple data sources and a qualitative study to explore incentives and barriers to using government tools and data systems to improve the analysis and synthesis of data for improved health programs and outcomes. This report highlights the data triangulation component. Because United States Government (USG) investments were the principle source of support for addressing both the HIV epidemic and HIS strengthening, this report focuses on those USG activities.