Diagnóstico de las Capacidades en Monitoreo y Evaluación: Sistema de Información de Salud de VIH en Guatemala

tr-18-293.pdf
— PDF document, 2,097 kB (2,147,818 bytes)
Author(s): MEASURE Evaluation
Year: 2018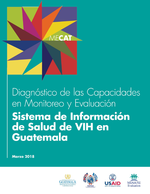 Abstract:
Guatemala realiza esfuerzos para fortalecer la implementación de sistemas de información de salud (SIS) de VIH a través del Ministerio de Salud Pública y Asistencia Social (MSPAS) con el apoyo de organismos cooperantes. En la actualidad, existen alrededor de 16 subsistemas de información que generan datos relacionados con el VIH. Para mejorarlos, se han evaluado y se han elaborado planes de acción con actividades puntuales para mejorar la recepción, registro, análisis y reportes de informes dentro de los sistemas.
Como parte de la estrategia regional de Plan de Emergencia del Presidente de los Estados Unidos para el Alivio del Sida (PEPFAR) y la Agencia de los Estados Unidos para el Desarrollo Internacional (USAID) en Centroamérica, MEASURE Evaluation implementa actividades de fortalecimiento de las SIS en VIH teniendo como contraparte a los ministerios de salud de la región.
La asistencia técnica encargada a MEASURE Evaluation en Guatemala para poder contar con un SIS que, utilizando datos de calidad, genere reportes que faciliten la toma de buenas decisiones, que se enfoquen en alcanzar las metas de eliminación del VIH al 2030, requiere valorar el estado del rendimiento y la capacidad de monitoreo y evaluación (MyE) del sistema en áreas funcionales clave. Para ello, es necesario llevar a cabo un diagnóstico de este sistema, que en forma ágil permita elaborar una propuesta de plan de acción para reducir las brechas identificadas por áreas de capacidad.
La metodología del diagnóstico consistió en la aplicación de la herramienta para evaluar la capacidad de MyE MECAT (por sus siglas en inglés: Monitoring and Evaluation Capacity Assessment Toolkit) (MEASURE Evaluation PIMA, 2017), la cual utiliza las 12 áreas de capacidad proporcionados por el Equipo de Referencia Mundial en Monitoreo y Evaluación (MERG por sus siglas en ingés: Monitoring and Evaluation Reference Group) para un Sistema Nacional Funcional de MyE de VIH (ONUSIDA, 2009).