Pregnancy Decisions and HIV Testing among Adolescent Girls and Young Women Enrolled in the DREAMS Initiative in Northern Uganda: Qualitative Report

tr-19-317.pdf
— PDF document, 1,783 kB (1,826,673 bytes)
Author(s): Irit Sinai, Danielle Stein, Eve Namisango, Ismael Ddumba-Nyanzi, Lisa Marie Albert, Michelle Li
Year: 2019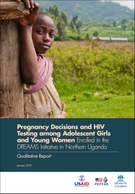 Abstract:
Adolescent reproductive health is a major social issue in Uganda. According to the 2016 Uganda Demographic and Health Survey, 25 percent of adolescents ages 15−19 are already mothers or pregnant with their first child, leading to substantial negative consequences for the health, education, and economic development of these young mothers, their children, and their communities. Adolescent girls and young women (AGYW) are also at a particularly high risk for acquiring HIV. The Determined, Resilient, Empowered, AIDS-free, Mentored, Safe (DREAMS) initiative in Uganda attempts to change these dynamics, by educating AGYW and empowering them to delay their first pregnancy, space subsequent pregnancies, and avoid risky behaviors that can lead to early pregnancy and HIV acquisition.
DREAMS is a global health initiative funded by the United States President's Emergency Plan for AIDS Relief (PEPFAR) and implemented by private implementing partners in 10 countries in sub-Saharan Africa, including Uganda. This study assessed the effects of DREAMS program interventions on decisions relating to the timing of pregnancies and sexual and reproductive health-related behaviors. Because of the interaction between HIV and pregnancy risk, we also looked at the effects of DREAMS on HIV prevention and testing, and on risky behaviors that can lead both to early pregnancy and contracting HIV.
The DREAMS initiative delivers a core integrated package of life skills and economic strengthening interventions addressing health, social, and structural factors associated with AGYW's HIV risk. The initiative also seeks to prevent unplanned pregnancies. DREAMS began work in Uganda in 2015 and as of 2018 operates in 11 districts. The objective of this qualitative study by MEASURE Evaluation—funded by the United States Agency for International Development (USAID) and PEPFAR—was to examine the influence of DREAMS interventions on perceptions and behaviors of AGWY in northern Uganda.
Access the related quantitative report.