Rapid Costing Assessment of USAID-Funded Structural and Behavioral HIV Prevention Activities Part II: Results of a Quantitative Cost Analysis

tr-19-323.pdf
— PDF document, 751 kB (769,572 bytes)
Author(s): Stacie Gobin, Shaylen Foley
Year: 2019
Gobin, S. & Foley, S. (2019). Rapid Costing Assessment of USAID-funded Structural & Behavioral HIV Prevention Activities, Part II: Results of Quantitative Cost Analysis. Chapel Hill, NC, USA: MEASURE Evaluation, University of North Carolina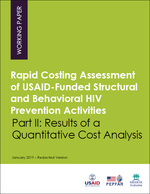 Abstract:
The United States President's Emergency Plan for AIDS Relief has seen great variation in the unit expenditure data reported from partners implementing behavioral and structural HIV prevention programs, impacting the effective use of resources and challenging accurate budget planning. This activity was developed to improve understanding of the processes used to report costs and provide unit expenditure estimates of specific behavioral and structural HIV prevention interventions, with the long-term goal of helping the United States Agency for International Development better capture the costs of multifaceted HIV prevention programs and improve resource management.
Cost information is difficult to access and quantify, because financial systems rarely contain the required cost information. One issue is the lack of systematic collection of cost data.
Additionally, few institutions have systems capable of apportioning central costs to local activities or departments. Unlike health and social care systems in high-income countries, with formal assessment frameworks that incorporate economic evaluations, low- and middle-income country contexts present several limitations in conducting economic evaluation and applying the results to policymaking.
This paper describes challenges in collecting, analyzing, and interpreting cost data in structural and behavioral HIV prevention programs and offers recommendations to meet them.