Evaluation of the Effects of HIV-Specific Investments in the Performance of the Health Information System in Côte d'Ivoire: Summary of Results

tr-19-379.pdf
— PDF document, 474 kB (486,223 bytes)
Author(s): Silvestre, E. and Davis, H.
Year: 2019
Silvestre, E. and Davis, H. (2019). Evaluation of the Effects of HIV-Specific Investments in the Performance of the Health Information System in Côte d'Ivoire: Summary of Results. Chapel Hill, NC, USA: MEASURE Evaluation, University of North Carolina.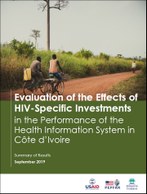 Abstract:
MEASURE Evaluation—a project funded by the United States Agency for International Development (USAID) and the United States President's Emergency Plan for AIDS Relief (PEPFAR)—has supported the Government of Côte d'Ivoire to strengthen its health management information system and HIV monitoring and evaluation (M&E) systems since 2004. Working closely with the Ministry of Health and Public Hygiene (Ministère de la Santé et de l'Hygiène Publique [MSHP]), MEASURE Evaluation has performed a leadership role in strategic planning and overall management of the health information systems (HIS). Under MEASURE Evaluation's Learning Agenda activities, the project conducted an evaluation of HIS investments in Côte d'Ivoire. The evaluation was designed to demonstrate how HIS strengthening investments affect HIS performance, health system outcomes, and public health outcomes. It assessed the broader effects of HIV-specific HIS investments in the overall improvement of the larger health system and how they can improve HIV outcomes. This report shares more.