Male Case-Finding Assessment in Namibia: Final Report

tr-19-384.pdf
— PDF document, 2,418 kB (2,476,853 bytes)
Author(s): Mswia, R., Reynolds, Z., & Watson-Grant, S.
Year: 2019
Mswia, R., Reynolds, Z., & Watson-Grant, S. (2019). Male Case-Finding Assessment in Namibia: Final Report. Chapel Hill, NC, USA: MEASURE Evaluation, University of North Carolina.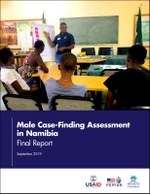 Abstract:
The 2017 Namibia Population-Based HIV Impact Assessment (NAMPHIA) report and other country reports have indicated that men 20 to 39 years of age have the lowest coverage of antiretroviral therapy in the country. The objective of this study, conducted by MEASURE Evaluation—a project funded by the United States Agency for International Development (USAID) and the United States President's Emergency Plan for AIDS Relief (PEPFAR)—was to explore the factors affecting barriers to and facilitators of HIV testing and prevention services among young men in Namibia. In keeping with the USAID and PEPFAR goals of controlling the epidemic, the study aimed to determine the right places, the right times, and the right ways to engage young men in these services, and to make recommendations on improving this engagement based on the primary data collected.