MEASURE Evaluation's Small Grants for Family Planning: Strengthening Research Capacity around the World

TR-19-391.pdf
— PDF document, 1,723 kB (1,765,269 bytes)
Author(s): Bridgit Adamou
Year: 2019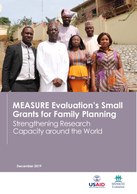 Abstract:
Increasing family planning (FP) uptake in low- and middle-income countries (LMICs) requires a strong routine health information system (RHIS) and sound data. In turn, good data management can increase stakeholder ownership and subsequently increase FP uptake. Unfortunately, several knowledge gaps disrupt this virtuous cycle: how to improve the quality of FP data, address barriers to integration of FP data in RHIS, and encourage analysis and use of the data to improve FP outcomes.
Small grants to in-country research groups promote capacity and provide financial support for FP research conducted in LMICs. The small-grants model creates sustainability by working through host-country institutions to research relevant FP issues, disseminate findings to local researchers, and help develop strategies for improvements.
MEASURE Evaluation, which is funded by the United States Agency for International Development (USAID), implemented a successful small grants program from 2014–2019. During that time, 19 subagreements were signed with research organizations from 11 USAID FP priority countries. This paper documents experience gained from the small grants program.