The Global Evaluation and Monitoring Network for Health (GEMNet-Health): An Institutional Partnership as a Vehicle for Capacity Building

tr-19-392.pdf
— PDF document, 1,772 kB (1,814,631 bytes)
Author(s): Kulatilaka, H., & Smith, J.
Year: 2019
Kulatilaka, H., & Smith, J. (2019). The Global Evaluation and Monitoring Network for Health (GEMNet-Health): An Institutional Partnership as a Vehicle for Capacity Building. Chapel Hill, NC, USA: MEASURE Evaluation, University of North Carolina.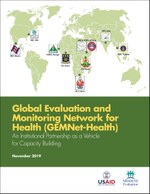 Abstract:
The purposes of this paper are to (1) describe how GEMNet-Health has served as a global resource for teaching and training, research, and technical assistance while also strengthening the capacity of individual network members; (2) document the technical activities and materials that have been produced to date; and (3) explore how GEMNet-Health has added to the global knowledge base on partnership networks as vehicles for capacity building in the field of public health.