Rwanda's Improved Services for Vulnerable Populations Project: Impact Evaluation. End Line Report

tre-19-25.pdf
— PDF document, 10,080 kB (10,322,247 bytes)
Author(s): Fehringer, J., Lance, P., Ndirangu, K., Benson, A., Angeles, G., Parker, L., Foley, S., Gobin, S., Varela, V.C., Morris, L., Cannon, A., Iskarpatyoti, B.
Year: 2019
Fehringer, J., Lance, P., Ndirangu, K., Benson, A., Angeles, G., Parker, L. . . . Iskarpatyoti, B. (2019). Rwanda's Improved Services for Vulnerable Populations Project: Impact Evaluation. End Line Report. Chapel Hill, NC, USA: MEASURE Evaluation.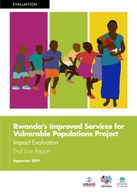 Abstract:
MEASURE Evaluation, funded by the United States Agency for International Development, conducted a cluster-randomized impact evaluation of the "Improved Services for Vulnerable Populations" (ISVP) project, led by Global Communities in Rwanda.
There were three treatment groups:
Household economic strengthening (HES-only) group, which provides a core platform of financial interventions
Full ISVP group, which supplements the core platform of HES interventions with health, education, and skills-building services
Control group, receiving no ISVP interventions
The evaluation covered 12 districts. Initial data collection took place in mid-2017 and end line data collection in late 2018/early 2019. Methods were quantitative surveys at both time points of the same households and key informant interviews at end line with 36 community leaders and eight program staff.
Final household survey sample sizes were 1,374 for full ISVP, 1,270 for HES-only, and 1,169 for control. We estimated program impact using difference-in-differences estimation and conducted qualitative thematic analysis.
Results showed that, despite contamination and data collection timing limitations, the program was still able to effect significant change in health and economic strengthening. Each program group saw positive impact for seven outcomes and negative impact for one; the full ISVP also trended positive for an eighth outcome. If initial data collection had taken place prior to program start, the full ISVP likely would have shown impact on at least two other outcomes, outperforming HES-only.
Access a related summary report.