Use of Technology to Manage Health Data in Rivers State, Nigeria: A Qualitative Study on Family Planning and Routine Health Information Systems

WP-17-189_en.pdf
— PDF document, 504 kB (516,714 bytes)
Author(s): Clement Edet, Mina Whyte, Rosemary Ogu, Grace Obomanu, and Agiriye M. Harry
Year: 2017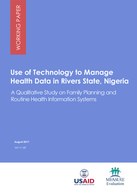 Abstract:
In line with World Health Organization recommendations, Nigeria is moving toward a central health information system, by adopting DHIS 2 (a web-based software for electronic data management) as part of the national health information management system. To facilitate the transition from paper to electronic data management, Nigeria has invested in trainings, deploying electronic devices, and Internet subscriptions.
With support from MEASURE Evaluation (funded by the United States Agency for International Development), the Rivers State Primary Health Care Management Board carried out this qualitative study to explore the experiences and perceptions of family planning providers and health information officers in implementing technology for district health data collection. The study also aimed to identify factors that affect the sustainability of using technology for data management in Rivers State, Nigeria.
The study involved 56 family planning providers and health information officers at the state, local government, and health facility levels. Data were collected through 21 in-depth interviews and four focus group discussions, using pretested guides developed from the study objectives.

The study found that most of the barriers that respondents identified as complicating the implementation of technology for district health data collection can be addressed through investing in capacity building, providing alternate electricity supply, addressing human resource gaps, improving the data use culture among decision makers, and funding the health sector adequately.