East African Community Digital Health and Interoperability Assessments Results at a Glance: Zanzibar

fs-20-440.pdf
— PDF document, 389 kB (398,545 bytes)
Author(s): MEASURE Evaluation
Year: 2020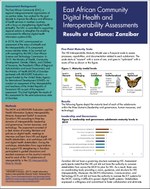 Abstract:
The East African Community (EAC), a regional intergovernmental organization of six partner states, has worked for the past decade to improve the efficacy and efficiency of health services in member countries, with a focus on strengthening digital health (also known as eHealth). The EAC has committed
to supporting regional actions to strengthen the enabling environment for effective digital health information systems (HIS).
In 2018, the EAC commissioned an assessment of the status of eHealth and the interoperability of its components across member states under the oversight of the EAC's East African Science and Technology Commission. In 2019, the Ministry of Health, Community Development, Gender, Elderly, and Children (MOHCDGEC) of Tanzania, the President's Office of Regional Administration and Local Government (PORALG), and the Ministry of Health of Zanzibar partnered with MEASURE Evaluation—a project funded by the United States Agency for International Development (USAID)—to assess the interoperability and readiness of the United Republic of Tanzania's HIS as part of this regional assessment. This brief highlights the results of this assessment for the semi-autonomous state of Zanzibar.