Malaria Routine Data Quality Assessment Tool: A Checklist to Assess the Quality of Malaria Program Data
tl-20-85.xlsm
— application/vnd.ms-excel.sheet.macroEnabled.12, 4,066 kB (4,163,935 bytes)
Author(s): MEASURE Evaluation
Year: 2020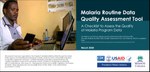 Abstract:
A comprehensive approach to data quality assurance should include three complementary approaches using standardized methods and tools. These approaches are as follows: 
Routine and regular (i.e., monthly) reviews of data quality built into a system of checks of the malaria or other program reporting systems as part of a feedback cycle that identifies errors in near real-time so that they can be corrected as they occur.
An annual independent assessment of a core set of tracer indicators to identify gaps and errors in reporting and the plausibility of trends in health facility data reported during the previous year.
Periodic in-depth program-specific reviews of data quality that focus on a single disease or program area and are timed to meet the planning needs of the specific programs (e.g., before program reviews).
This tool aims to standardize and facilitate the routine review of malaria data quality at health facilities, by the district monitoring and evaluation teams that support them via routine supervision to health facilities. While the Malaria Routine Data Quality Assessment (MRDQA) tool provides some details on use of the tool, a User Manual expanded details exists and is meant to accompany this tool. Access the manual at https://www.measureevaluation.org/resources/publications/ms-20-190/