HIV Testing and Pregnancy Delay among Adolescent Girls and Young Women Enrolled in the DREAMS Initiative in Northern Uganda: Quantitative Report

tr-18-311.pdf
— PDF document, 2,783 kB (2,850,154 bytes)
Author(s): Karen Foreit, Veronica Varela, Chris Bernard Agala, Michelle Li, Lisa Marie Albert
Year: 2019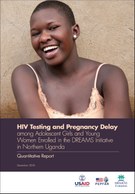 Abstract:
In 2015, the United States President's Emergency Plan for AIDS Relief (PEFAR) launched a targeted initiative—Determined, Resilient, Empowered, AIDS-free, Mentored, and Safe Women (DREAMS)—to reduce HIV incidence among adolescent girls and young women (AGYW) ages 10 to 24 years in ten sub-Saharan African countries, including Uganda. The program provides HIV testing along with other interventions to address the structural drivers that directly and/or indirectly increase AGYW's HIV risk, depending on beneficiaries' characteristics.
DREAMS' strategy aims to provide combinations of services (known as a "layering" approach") tailored to meet the different needs of five priority subpopulations or "segments" of AGYW:
High-risk, in-school
Pregnant
Married
Have given birth by age 15
Involved in transactional sex
DREAMS currently operates in 11 districts in Uganda. In 2018, three years after program launch, the United States Agency for International Development (USAID)/Uganda asked MEASURE Evaluation to conduct secondary analyses of routinely-collected program data to assess the impact of the DREAMS initiative in four districts in Northern Uganda: Gulu, Lira, Omoro, and Oyam.
The aim of this study is to assess the impact of the DREAMS initiative with the following objectives:
Objective 1: Assess the influence of the family planning (FP) component of DREAMS on delay of subsequent pregnancies and contraceptive uptake among beneficiaries who had given birth by age 15, and
Objective 2: Quantify the coverage of HIV testing and retesting and compare HIV retesting among beneficiaries who were reported to have received family planning services with those who were not reported to have received family planning.
Access a related qualitative report.